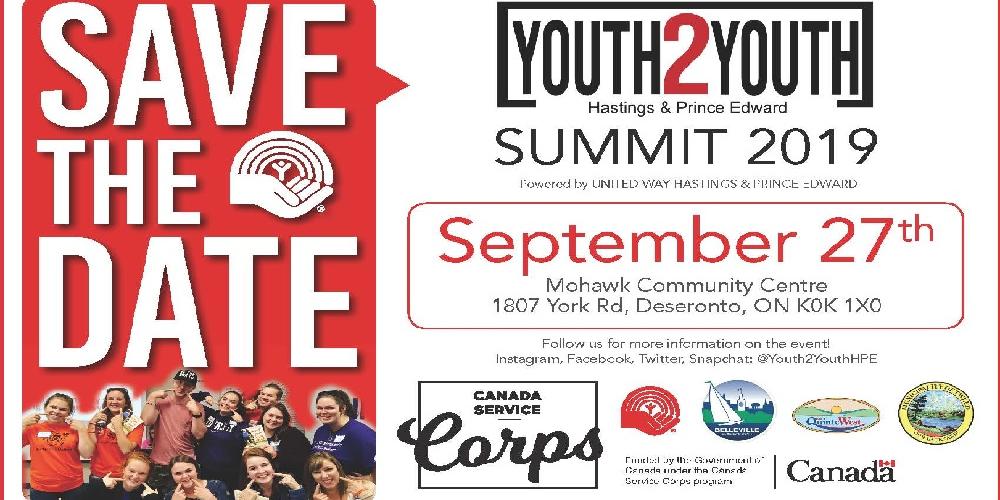 CALLING ALL YOUTH LEADERS
Have you heard about the upcoming Youth2Youth Summit this September 27th? It is a free summit that aims to connect youth!
United Way is currently recruiting youth ambassadors (age 14 - 24) to contribute in the planning of the youth summit. If you, or any youth you know may be interested, please contact: youth2youth@unitedwayhpe.ca
United Way is able to offer some assistance with commuting to these regular meetings depending on location.
---
MORE INFORMATION ON THE YOUTH2YOUTH SUMMIT 2019
When: September 27th 2019, 9am-3:30pm (FIRST PA day of the year!)
Where: Mohawk Community Centre – 1807 York Rd, Deseronto, ON K0K 1X0
Who: Youth ages 14-24
What is it? This free, one-day summit aims to connect youth from all over North Hastings, Central Hastings, Prince Edward, Lennox & Addington, as well as Belleville, Quinte West and Tyendinaga Territory. Our keynote is Phil Kerr, a local speaker and entrepreneur who will be providing a youth-focused presentation on overcoming adversities and taking action. Phil is a cancer survivor and champion adaptive sports expert. Throughout the day, youth and allies will have the opportunity to take part in interactive workshops that provide them with a variety of transferable skills and awareness. During these workshops, youth will be able to network with community experts and professionals and add their name to a topic list that will make up Youth2Youth working groups following the summit. We will end the day with a live Q&A with our panel of experts, including Phil and the workshop facilitators, in order to engage the youth in some broader discussions. Lunch and snacks will be provided, along with a ton of free swag!
Why? Our goal is to create positive movements within our communities and encourage youth leadership. Based on the conversations that took place with over 150 youth at the 2017 summit, we will be providing youth with an experience that they can learn from and build skills in to apply to their personal lives and elsewhere in our community. Youth who attend will receive community hours and a certificate that can be put right into their portfolios! There will be a photobooth for professional LinkedIn photos and a snapchat filter will be available to showcase their involvement in the event!
Transportation: Transportation options will be provided for youth in Bancroft, Madoc, Belleville, Quinte West and Prince Edward County. More information to come regarding specific locations for pick-ups and drop-offs.
Registration: This is a FREE event, but registration is MANDATORY! Keep an eye out on our social media and your emails as we will be sending this out towards the end of August. If you have updated contact information, please forward this to: youth2youth@unitedwayhpe.ca
For further information and updates, please visit our website at https://unitedwayhpe.ca/youth-2-youth/ or follow us on social media - Facebook, Instagram, Twitter: @Youth2YouthHPE
---