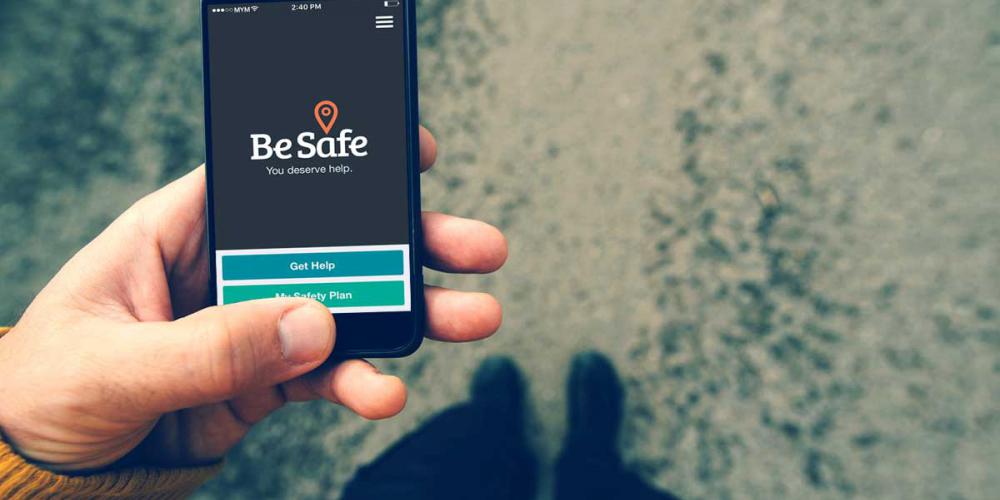 Have you checked out the Be Safe App?
Be Safe is a mobile app that aims to help young adults make a decision about seeking help in a crisis.
Be Safe is unique because it was developed in full partnership with youth and professionals. It is a systems navigation tool that helps youth find help when they need it, and supports them through the process of reaching out when it feels overwhelming. By using information from our vast network of partners, Be Safe makes the process of finding the right help quick and easy.
The Be Safe app:
Allows users to create a digital safety plan
Informs users about mental health and addiction resources in their local community
Directs users to the best options for their needs though a decision-making aid
Creates a personal 'get help script' that helps users find the words to reach out
Empowers the user to reach out safely
---
Be Safe was originally developed by a dedicated team of youth, mindyourmind, the Centre for Addiction and Mental Health's Provincial System Support Program, and other partners in the Systems Improvement through Service Collaboratives initiative in London, Ontario and surrounding areas.
Be Safe encourages youth to make and use a customized safety plan, informs them about local mental health and addiction resources, and provides suggestions of community resources based on their level of need (identified through the use of a decision aid). There is also a paper-based pocket guide version of Be Safe, which allows youth to keep a paper copy of their safety plan along with a list of Ontario wide resources they can access 24/7.
The success of the London-specific version of Be Safe sparked interest in other communities across the province, who partnered with mindyourmind to develop their own community-specific mental health and addiction resources listings. In the new app, users can select from a drop-down menu to see mental health and addiction resources available at the provincial level or in a specific community. The communities now included in Be Safe are Brant, Chapleau, Chatham-Kent, Durham, Great Sudbury, Haldimand-Norfolk, Hastings-Prince Edwards, Hamilton, London Middlesex, Manitoulin Island, Sarnia Lambton, Waterloo Wellington and Windsor Essex County.
"In expanding resources we've made locally, it enables users to identify the help they need in a simple way, should they choose to travel outside their current location," says Taylor Holden, 19, who has been involved in the development of Be Safe since the first youth co-creation event in April 2013. "In expanding Be Safe across Ontario, we've taken a good step forward in ensuring that youth are getting the help they need, when and where they need it."
In addition to these new regions, Be Safe now includes some updates in the revised version. Specifically, there is a new section with information on what to expect when accessing services, how to wait for help safely, and their rights as a patient. A zine developed by the youth involved in creating Be Safe, which outlines the processes involved in creating the original app and making adaptations for the new version, is available for viewing at mindyourmind.ca/besafezine.
This is far from the last step for Be Safe though. "It is exciting to see the community response to the Be Safe app. We've already confirmed several new regions we hope to add by the end of the year. We also have a French version underway, which will ensure our broader community can better access services," says Heather Miko-Kelly, mindyourmind's Youth Projects and Volunteer Coordinator.
Be Safe is immediately available for free download to any Apple or Android mobile device from mindyourmind.ca/besafe.
---