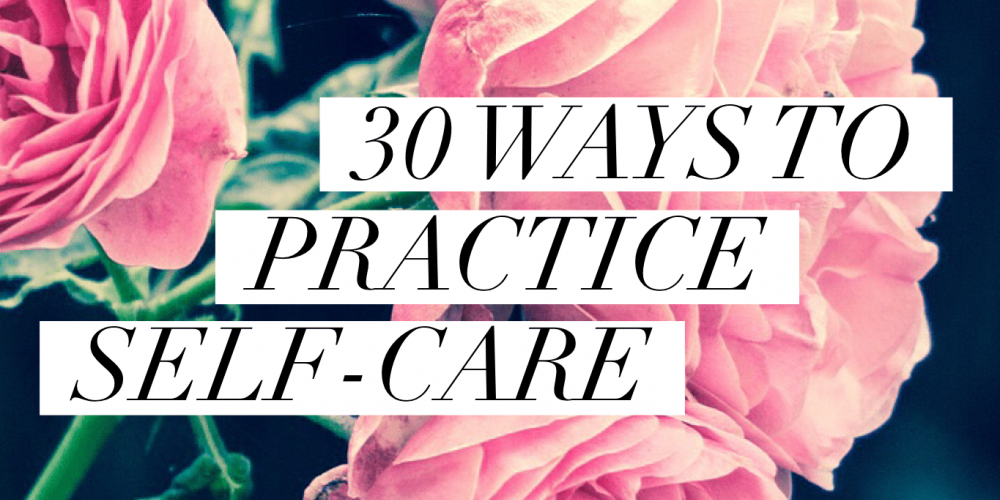 30 Ways to Practice Self-Care: Take Care of Yourself
You have probably heard about Self-Care, but what is it really and what are some ways to practice it? This wonderful article by CHIEF HEALTH is a great place to start!
---
Practicing self-care on a daily basis can provide many benefits such as, preventing illness, managing disease, and making informed decisions about your health. Take good care of yourself and it'll help you take care of others.

What Is Self-Care?
Self-care is all about identifying your own needs and meet all those needs. Focus on yourself and do some activities that nurture your physical, mental, and emotional health. It seems easy and simple, but people often forget about their own needs in their busy lives. Practicing good self-care can improve your mood, reduce anxiety, and teach you how to treat others.
Self-care should never involve something you don't enjoy. The things you do should help refuel your mind and body. Remember, self-care isn't a selfish act – it is simply knowing what must be done in order to take better care of ourselves.
Why Is It Important?
Life can sometimes become overwhelming, and all the stuff you usually do to take care of yourself is looked over to make room for all the other things on your calendar. As you become stressed, self-care is usually the first thing to go. It's easy to believe pushing yourself will pay off, but your abilities will become worn over time.
Some might say it's cliche and the phrase may sound fluffy and cute, but self-care is crucial to help you function. Self-care can help you keep moving at the speed of life in a couple of ways. Practicing proper habits will keep you from reaching the point of exhaustion, helping you function normally under stress, and refocus to help you perform better.
What Are The Benefits?
1. Makes You More Productive. Slowing down and saying no to commitments that will push you past your limits can help bring you back to the present moment. Oftentimes, putting self-care at the top of your to-do list can help you recenter you focus on what's important.
2. Boosts Your Immune System. Taking your vitamins/supplements, getting good rest, eating all your meals, practicing mindfulness, and exercising are all ways to practice self-care. They also activate the bodies defenses against illness and keep your mind and body strong.
3. Improves Self-Compassion. If you take care of yourself, you will feel better. Try being warm and understanding towards yourself when you suffer, fail, or feel inadequate. If you wouldn't talk to a loved one the way you are talking to yourself, you might want to take a few deep breathes and go easy on yourself.
4. Helps Personal Identity. Practicing self-care can help you find hobbies you thoroughly enjoy. You'll figure out what you love to do and break down old beliefs of who you are and what you can accomplish.
5. You'll Have More To Offer. When your cup isn't full, you won't be able to fill up others'. You will have a greater capacity for your friends and family the more you practice your own self-care. It's not selfish to do things for yourself.
Where Should You Start?
Stay With The Basics: You will find what works best for you with time and adopt new ways of self-care that satisfy your needs. Don't be afraid of trying something new. Barriers you created as a child may not be there anymore. Be careful – you might surprise yourself!
Plan Ahead: Try to avoid self-care that randomly occurs. Instead, make a brief list of what you would like to do – and stick to it! Keeping an agenda is a great way to keep track of things you'd like to try. Also, you could set a reminder on your phone or set up a time with a friend to help keep you accountable.
Pay Attention To What Works: Is a certain activity making you feel worse? Remove it from the schedule. Be conscious of what you do, why you do it, how it makes you feel, and what the outcome is. Self-care is supposed to make you feel refreshed, content, and in the moment. Spending time doing something you hate isn't going to make you feel better.
List of 30 Ways To Practice Self-Care
Physical
Go For A Walk
Dance
Hike
Play With A Dog
Take A Hot Shower
Reorganize Your Room
Visit Your Favorite Coffee Shop
Workout
Take A Nap
Fly A Kite
Mental Self-Care
Read A Book
Learn To Draw Something New
Find A DIY Activity On Pinterest
Buy An Adult Coloring Book
Turn Off Your Phone
Ask For Help When You Need It
Stay Off Of Social Media
Read Inspiring Quotes
Listen To Calm Music
Write Down Your Thoughts And Feelings
Emotional
Put Your Favorite Song On Repeat
Put On Fresh, Comfy Clothes
Find A Quiet Place And Meditate
Avoid Triggers
Light Your Favorite Candle
Slow Your Breathing
Take A 10 Minute Break
Spend Time With Loved Ones
Watch Your Favorite TV Show Or Movie
Eat Energizing, Healthy Foods
Self-care isn't just for some people – everyone should make the time to take care of themselves. It's not a reward either, it's part of a never-ending process. Stop "rewarding" yourself with lunch, a trip to the bathroom, or a break. Take care of yourself and don't neglect how you feel and what you need. Make time to do the things you love and it'll make you feel good.
Use some (or all) of these self-care practices to set up a daily routine. After two weeks see how different you feel. You won't regret it.
---
Original Cheif Health article can be found at:
https://chiefhealth.us/2017/10/20/30-ways-to-practice-self-care/
---