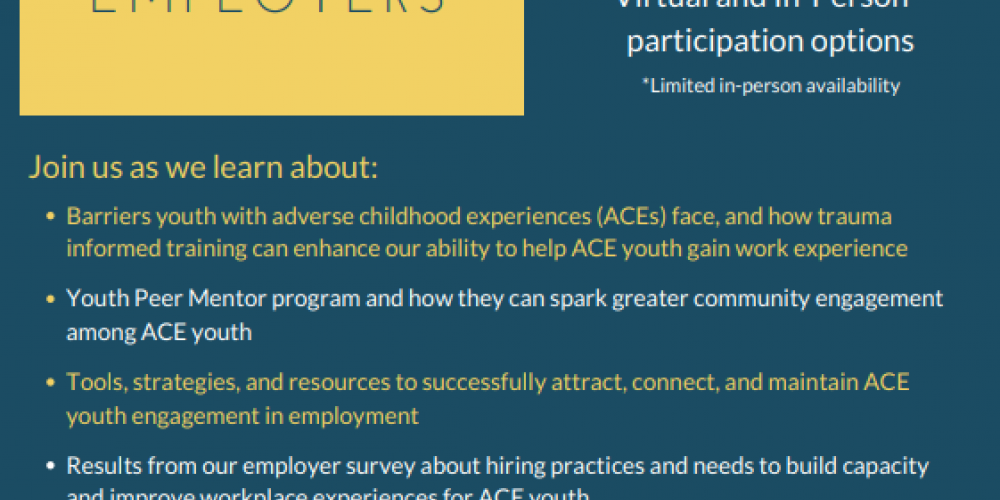 Youth Employment Symposium: Connecting Paths to Employers
The John Howard Society of Belleville presents...

Youth Employment Symposium: Connecting Paths to Employers!
The Details:
Friday October 1st, 2021
9:00am-3:30pm
Virtual and In-Person options
What will I learn at the Symposium?
Barriers youth with adverse childhood experiences (ACEs) face, and how trauma informed training can enhance our ability to help ACE youth gain work experience
Youth Peer Mentor program and how Mentors can spark greater community engagement among ACE youth
Tools, strategies, and resources to successfully attract, connect, and maintain ACE youth engagement in employment
Results from our employer survey about hiring practices and needs to build capacity and improve workplace experiences for ACE youth
Who will benefit from this symposium?
Agency/Community Partners
This symposium will give partners an opportunity to hear first-hand from ACE youth what prevents them from finding a job and what is helpful when trying to overcome those barriers. Partners will also be able to identify more strategies, opportunities, and resources to turn to when trying to better support ACE youth in their journey to obtain and sustain employment.
Employers
Join other socially conscious employers who want to give back to their community and make a difference in the lives of local youth. By gaining an understanding of who ACE youth are and the value they can add to the workplace when proper supports are in place, employers will also be in a better position to source more job candidates from untapped talent pools.
Youth
This symposium will give youth the opportunity to have a voice and share their perspective and ideas about how to improve the working world. Join other youth who can relate to your personal experiences, and find out what the future job market looks like.
Registration closes on September 24, 2021.

To register and for more information please click here!

---
Author:

The John Howard Society of Belleville